New PoW exchange takes place: 130 for 90
Tuesday, 7 March 2023, 15:27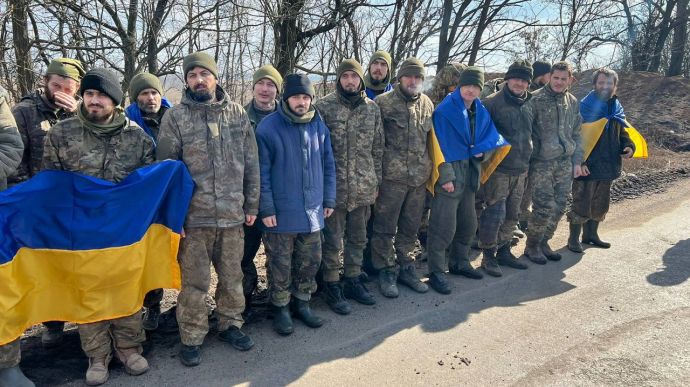 On 7 March, as a result of the negotiation process, another exchange of captured soldiers between Ukraine and Russia took place, Kyiv brought back 130 defenders.
Source: RIA Novosti; Russian Ministry of Defence; the head of the Office of the President of Ukraine, Andrii Yermak; Dmytro Lubinets, Ukrainian Parliament Commissioner for Human Rights
Details: The Ministry of Defence of Russia reported that on 7 March, as a result of the negotiation process, 90 Russian servicemen were returned from the territory controlled by Kyiv. They will be delivered to Moscow by military transport aircraft of the Russian Air Force.
Advertisement:
Later, the Ukrainian side confirmed the swap.
Quote from Yermak: "There was another PoW swap – we managed to bring 130 of our people back home: 126 men and 4 women. These are the soldiers from the Armed Forces of Ukraine, members of the National Guard of Ukraine, members of the State Border Guard Service of Ukraine and the State Special Transport Service of Ukraine. Among them are 87 defenders of the city of Mariupol, 71 of them from the Azovstal plant. We also brought back the people captured near the cities of Bakhmut and Soledar – 35 people from the Donetsk front in total."
Ïîâåðíåííÿ 130 ãåðî¿â Óêðà¿íè ç ðîñ³éñüêîãî ïîëîíó 7 áåðåçíÿ - â³äåî, ïîøèðåíå Àíäð³ºì ªðìàêîì pic.twitter.com/bCLxSZwtpW

— Óêðà¿íñüêà ïðàâäà ✌️ (@ukrpravda_news) March 7, 2023
Details: The majority of the people who Ukraine brought back on 7 March are severely injured.
Among those released are 45 servicemen of the Armed Forces of Ukraine, 25 National Guards servicepeople, 23 border guards, 21 soldiers of the Naval Forces of Ukraine, 8 soldiers of Territorial Defence Forces, and 8 representatives of the State Special Transport Service.
The youngest is not yet 21 years old; the oldest will soon be 64 years old.
All of them will receive medical assistance and be able to restore bank cards and documents, Lubinets said.
Taking into account these 130 people, 1993 Ukrainians have already been released from Russian captivity.
Background: on 16 February, Ukraine and the Russian Federation exchanged prisoners of war in the 101 for 101 format: 100 military personnel and one civilian were returned to the controlled territory of Kyiv, and 100 military personnel and Mykola Zirka, Senior Priest of the Holy Kazan parish of the Horlivka diocese of the Ukrainian Orthodox Church (Moscow Patriarchate) in the village of Yarova in Donetsk Oblast, were returned to Russia.
Journalists fight on their own frontline. Support Ukrainska Pravda or become our patron!