People refuse to evacuate Kupiansk district
Friday, 11 August 2023, 12:58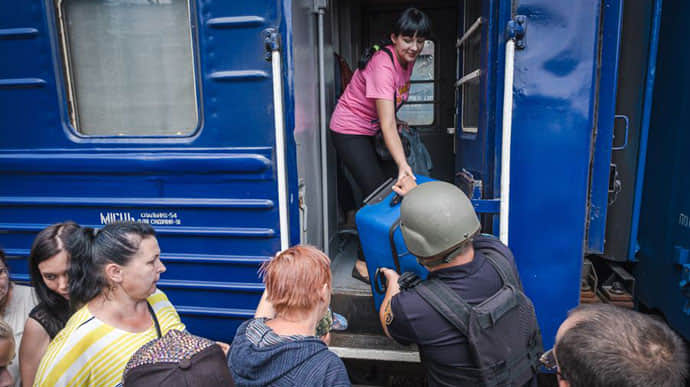 Residents of the Kupiansk district of Kharkiv Oblast refuse to evacuate; most often, they are pensioners, but it happens that young families with children do not want to go either, said Andrii Besedin, Head of the Kupiansk City Military Administration.
Source: Radio Liberty
Quote from Besedin: "Unfortunately, for the most part, as we expected, people refuse to evacuate. But we constantly have bus routes that connect the city of Kupiansk with the city of Kharkiv. The train runs regularly. People contact us; there is a hotline. We respond immediately, form lists, and volunteers are taking [residents] to Kharkiv."
Details: Besedin added that older people most often refuse to evacuate, but there are also families with children among those who refuse.
The head of the Kupiansk City Military Administration said there are currently more than 600 children in the Kupiansk hromada [a hromada is an administrative unit designating a town, village or several villages and their adjacent territories – ed.].
"It is very important for us that they are in safer places. Because of the escalation, the number of attacks that are now on the territory of the hromada is increasing. We must protect especially children and people with limited mobility and move them to safer regions," Besedin emphasised.
Background:
On 10 August, local authorities announced the beginning of the mandatory evacuation of residents of 37 settlements in the Kupiansk district of Kharkiv Oblast. Such a decision was taken in connection with increased attacks from Russia.
Ukrainska Pravda is the place where you will find the most up-to-date information about everything related to the war in Ukraine. Follow us on Twitter, support us, or become our patron!