Russian troops could not retake positions near Andriivka – General Staff
Tuesday, 19 September 2023, 20:26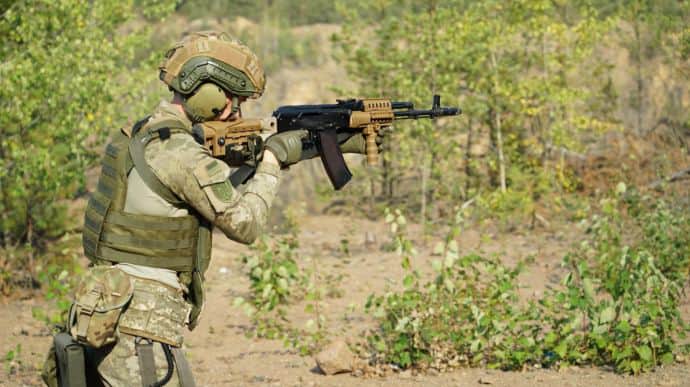 The Russian army has tried to regain the lost positions near Andriivka in Donetsk Oblast, which were liberated by the Defence Forces of Ukraine on 15 September.
Source: General Staff of the Armed Forces of Ukraine, information as of 18:00 on 19 September
Details: The Defence Forces successfully repelled the Russian attack west of Yahidne, Donetsk Oblast. Another 10 attacks were repelled in the area of Marinka, Donetsk Oblast, and Robotyne, Zaporizhzhia Oblast.
Advertisement:
The defence forces of Ukraine continue to conduct an offensive operation on the Melitopol and Bakhmut fronts.
The aviation of the Defence Forces launched 16 strikes on clusters of Russian personnel, weapons and military equipment and two strikes on Russia's anti-aircraft missile systems.
Units of Rocket Forces and Artillery hit three Russian command posts, an anti-aircraft missile system, nine artillery systems, one ammunition storage point and an EW station.
Quote: "Russian occupiers cynically continue to violate the norms of international humanitarian law: they forcibly move in with civilians in their houses, using them as human shields. For example, in the settlement of Tokmak in the Zaporizhzhia Oblast, servicemen of the Russian occupying forces are massively resettled with elderly civilians in their homes. In addition, the occupiers are robbing apartments and houses of Ukrainian citizens."
Background:
On 15 September, the Ukrainian Armed Forces liberated Andriivka during their offensive, and have had partial success in the area of Klishchiivka in Donetsk Oblast.
The 3rd Separate Assault Brigade shared footage of their battle against the Russian occupiers in the liberated settlement of Andriivka. Soldiers launched a UAV with a loudspeaker into the sky, and the commander of the 2nd Assault Battalion offered that the occupiers choose between captivity or death.
Ukrainska Pravda is the place where you will find the most up-to-date information about everything related to the war in Ukraine. Follow us on Twitter, support us, or become our patron!