Number of victims has reached 53, including district head
Tuesday, 10 October 2023, 11:45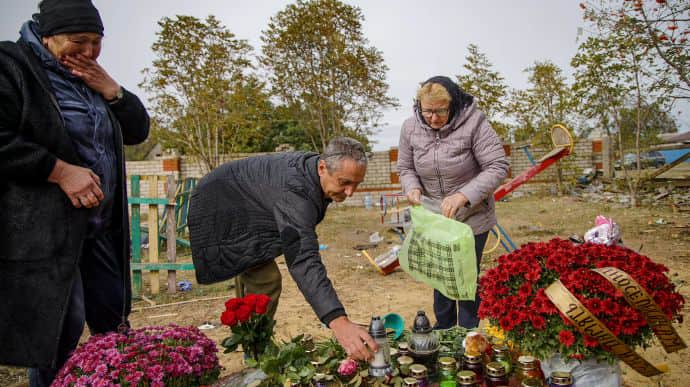 Forensic experts have identified 53 people killed in the Russian missile strike on the village of Hroza in Kupiansk district of Kharkiv Oblast. The number of casualties may still rise.
Source: Serhii Bolvinov, Head of the Kharkiv Police Investigation Department, at a briefing on 10 October, quoted by Suspilne
Quote Bolvinov: "As of now, we have identified 53 people who were killed. Therefore, we can say that today the number of dead has increased. Given the still unidentified body parts and missing persons statements, the final number may increase further."
Advertisement:
Details: The police spokesman noted that police received a total of 22 missing persons reports. All applications were worked through.
"Four statements were not confirmed because we found people. We identified 13 of them among the corpses. Five are now missing," said Bolvinov.
According to Bolvinov, forensic scientists conducted 288 DNA tests.
Quote: "We are collecting the remains of civilians without a break. From the first minute, despite the difficult psychological conditions, we collected the remains of those killed in the village of Hroza and identified these people. Mutilated bodies had to be collected in pieces. We examined 135 remains. We are still doing it. DNA laboratories have been working around the clock for the fifth day. Forensic experts and investigators too."
More details: Bolvinov also reported that Oleksandr Nechvolod, the head of the Petropillia district, was among those killed as a result of the missile attack on the village of Hroza.
He was 60 years old.
"I will be able to explain later how he [the body] was identified. The missile tore some people into such pieces that we have to put them back together now. You can imagine an Iskander [missile], capable of destroying houses, aimed at a crowded place. We are conducting DNA analysis on the recovered parts. We know that this is a person, based on a part of a hand, a finger. That is why it is so difficult, it is very painstaking work," Bolvinov said.
Background:
Read also: Young couple killed in Russian missile strike on Hroza: details of tragedy
Ukrainska Pravda is the place where you will find the most up-to-date information about everything related to the war in Ukraine. Follow us on Twitter, support us, or become our patron!