Imagine there may be no help: conclusions of US Special Representative's visit to Ukraine
Thursday, 16 November 2023, 10:15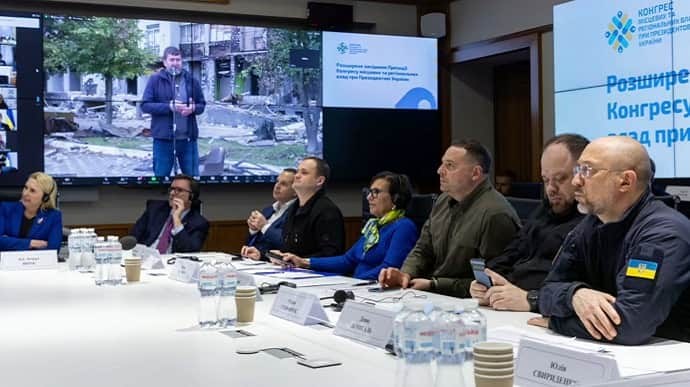 Penny Pritzker, US Special Representative for Ukraine's Recovery, has suggested that officials imagine how the country could survive economically without US aid during her first visit to Ukraine.
Source: Ukrainska Pravda with reference to a source familiar with the talks; Andrii Hunder, the president of the American Chamber of Commerce in Ukraine
Details: Pritzker met with President Volodymyr Zelenskyy, the prime minister and government officials, the chairman of the parliament and American businesses. In addition, she even attended a congress of regional authorities together with Andrii Yermak, Head of the President's Office.
Advertisement:
Ukrainska Pravda stated that her first visit to Ukraine had left "a rather disturbing aftertaste in many government offices" here.
One of the sources, familiar with the course of Pritzker's meetings, said that she tried to "lead [them] to the idea" of how Ukraine could survive economically without American aid.
Quote from the source: "At the meetings, Penny tried to get people to think, like, let's imagine that there is no American aid: what do you need to do over the next year to make sure that your economy can survive even in this situation? And it really stressed everyone out."
More details: Andrii Hunder, the president of the American Chamber of Commerce in Ukraine, told Ukrainska Pravda that Pritzker's main question during her visit and meetings with businesses was "What hinders success and who hinders it?"
The UP article reads that perhaps the strongest concern among most people who interacted with Biden's representative was her call not to wait for Western assistance, but to seek areas of growth as if it wouldn't be coming.
This thesis was "anxiously conveyed from mouth-to-mouth in the corridors of Ukrainian politics" after Pritzker departed from Kyiv. Such a call sounded particularly threatening against the backdrop of Republicans in Congress blocking assistance to Ukraine.
However, the Office of the President of Ukraine advised not to dramatise this story. A source of UP in Zelenskyy's team explained:
Quote: "It's inaccurate to say she had messages like there won't be any support. She has an obvious business approach and wants to help us in the opposite direction: let's imagine there's no Western support, what do we and you need to do now to remain resilient and operational under any conditions? Let's look for solutions that will allow you to remain successful."
Support UP or become our patron!