Thousands in Kherson come out to rally against occupier, the aggressors open fire
Sunday, 13 March 2022, 13:15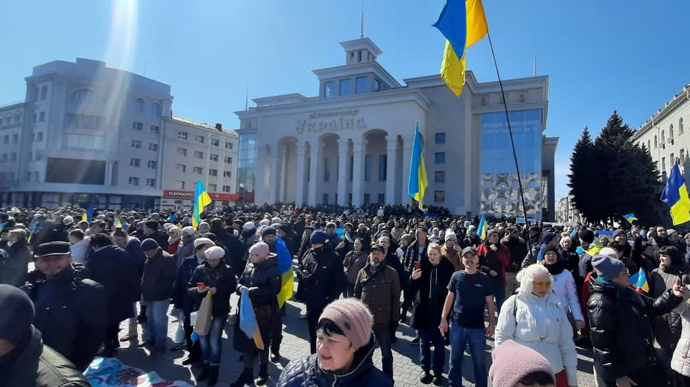 IRINA BALACHUK - SUNDAY, 13 MARCH 2022, 14:15
In Kherson, several thousand people came out for a peaceful "Kherson is Ukraine" rally. Later, the invaders opened fire at the rally.
Source: eyewitness Olena Kozak on Facebook; Information Resistance Association; Suspilne Media. Kherson.
Advertisement:
Details: Many people were holding placards and Ukrainian flags.
As can be seen from Kozak's video, people are chanting "Go home", "Go home while you're still alive", "Ukraine above all", "Glory to the nation - death to the enemies", "Russian soldier, go f**k yourself", "Kherson is Ukraine", "Russia is a s**t-house, victory will be ours".
People are rallying despite the fact that dozens of armed Russian soldiers and many Russian vehicles are stationed around.
According to "Information Resistance", about 10 thousand Kherson residents came out to protest against the proclamation of the so-called "Kherson People's Republic" by the invaders.
Later, at a rally in Kherson, the occupiers opened fire. When this happened, people were chanting: "The Russian soldier is a fascist occupant!"
According to the local journalist Konstantin Ryzhenko, shots were fired at people's legs at the rally. At least one man was hit in the leg by the occupiers with a rubber bullet.
Also in Kherson, several people rallied in support of the occupiers. They held up red USSR flags.
Among them were Ihor Semenchev, a city council member; Serhiy Cherevko, former deputy mayor of Kherson; pro-Russian Kherson activist Kirill Stremousov; Tatiana Kuzmich, a teacher at the Kherson Academy of Continuing Education; Volodymyr Saldo, former mayor of Kherson; and Hennadiy Balbota.
What happened earlier: On 13 March, military vehicles were being driven around Melitopol, a town in Zaporizhzhia region temporarily occupied by Russian troops, warning residents through loudspeakers in Russian that rallies and demonstrations are prohibited. At the same time, as witnessed by a video recorded on the streets of the city, Melitopol residents were sending this message and the occupiers themselves in an internationally known direction - following the Russian warship.
Background: