Russian attack on medical facility in Dnipro: woman killed, many injured
Friday, 26 May 2023, 11:59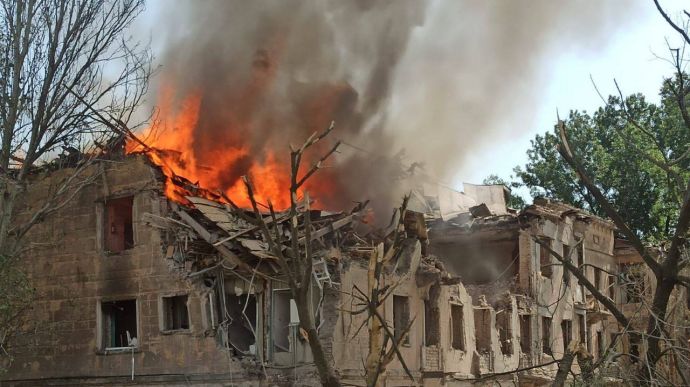 Russian forces launched a missile attack banned by the Geneva Convention on an outpatient clinic in the city of Dnipro on 26 May, killing at least one person and injuring 15 others, including two boys. One person also died in the veterinarian clinic building.
Source: President Volodymyr Zelenskyy on Facebook and Telegram, Serhii Lysak, Head of Dnipropetrovsk Oblast Military Administration, on Telegram, National Police of Ukraine; Dmytro Lubinets, Ukrainian Parliament Commissioner for Human Rights, on Telegram
Quote Zelenskyy: "Russian terrorists once again prove their status as fighters against everything humane and decent.
Advertisement:
A missile attack on an outpatient clinic in the city of Dnipro. One person has been killed and 15 have been injured so far. We are working to deal with the attack's aftermath and rescue the victims."
Details: The president said that all relevant services are engaged in rescuing people.
He posted a video of a destroyed building with smoke rising above it.
Shocking footage of the injured in Dnipro emerged on social media.
Serhii Lysak said preliminary reports indicate one person was killed and 15 injured in the Russian attack on Dnipro. Rescue efforts are ongoing.
Among the wounded in Dnipro are two children: boys aged 3 and 6. Both are taken to the hospital. Doctors assess their condition as serious.
11 adults have also been taken to the hospital; two of them are in serious condition, Lysak said.
Dmytro Lubinets reported that one person was killed and 16 injured, and four persons were missing.
Update: Later it was revealed that in total at least two people have died and 23 have been injured in Dnipro.
Local authorities reported that two buildings caught fire. The fire covered an area of 500 square metres.
As of 12:00, emergency workers are engaged in extinguishing the fires.
Investigative teams, bomb disposal experts, forensic experts, the State Emergency Service and other services were involved at the scene.
Previously: On the morning of 26 May, Russian invaders carried out a missile strike on a medical facility in Dnipro.
And there was a mixed attack at night when Ukrainian air defence forces shot down five Russian cruise missiles and six Shahed attack UAVs over Dnipropetrovsk Oblast, and a household, two private enterprises and a gas station were damaged in Dnipro.
For reference:
The Geneva Convention relative to the Protection of Civilian Persons in Time of War (1949) provides protection to civilian hospitals, even if they treat military personnel.
Article 18 of the Convention states that "civilian hospitals organized to give care to the wounded and sick, the infirm and maternity cases, may in no circumstances be the object of attack, but shall at all times be respected and protected by the Parties to the conflict. States which are Parties to a conflict shall provide all civilian hospitals with certificates showing that they are civilian hospitals".
Article 19 states: "The protection to which civilian hospitals are entitled shall not cease unless they are used to commit, outside their humanitarian duties, acts harmful to the enemy. Protection may, however, cease only after due warning has been given, naming, in all appropriate cases, a reasonable time limit, and after such warning has remained unheeded".
The fact that sick or wounded members of the armed forces are nursed in these hospitals, or the presence of small arms and ammunition taken from such combatants which have not yet been handed to the proper service, shall not be considered to be acts harmful to the enemy".
Journalists fight on their own frontline. Support Ukrainska Pravda or become our patron!