Zelenskyy outlines peace formula to Xi, and Xi talks about China's "peace plan"
Wednesday, 26 April 2023, 18:16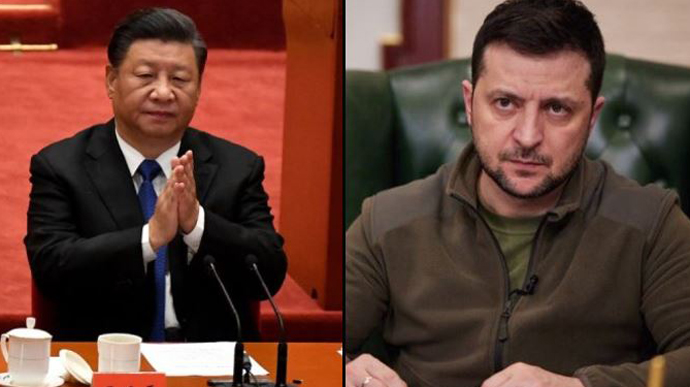 During a phone conversation, Ukrainian President Volodymyr Zelenskyy told Chinese President Xi Jinping about Ukraine's peace formula, while Xi Jinping spoke about China's "peace plan".
Source: Serhii Nykyforov, spokesman for Zelenskyy, during the 24/7 national joint newscast
Quote: "There was an exchange of views. The Chinese President personally presented the Chinese peace plan, which is in the public domain. The President of Ukraine spoke about our 10-step peace formula, which is a priority for us.
Advertisement:
There are certain points where they overlap, such as the non-use and non-proliferation of nuclear weapons, etc."
Details: Nykyforov said that this is only the beginning and marks a new phase in the bilateral relations between the two countries.
Zelenskyy's spokesman described the conversation as an "exchange of views" on the most important issues and a "first step" in restoring and developing Ukrainian-Chinese relations.
Ukraine is awaiting the arrival of Li Hui, a former Chinese ambassador to Russia (2009-2019) who has been appointed as China's special representative to resolve the "Ukrainian crisis" [as the Chinese government calls the war – ed.]. It is not yet known when Li will arrive and which other countries he will be visiting.
Quote: "We'll see what he comes with. I understand that he is coming in order to gain a more detailed understanding of our position. In any event, we are committed to a direct dialogue with China."
Background:
On 26 April 2023, Volodymyr Zelenskyy had a phone call with Chinese President Xi Jinping. This is the first conversation between the two leaders since Russia's full-scale invasion of Ukraine in February 2022.
On the same day, Zelenskyy appointed Pavlo Riabikin as Ukraine's Ambassador Extraordinary and Plenipotentiary to China. Since the death of the previous ambassador, Serhii Kamyshev, Ukraine had not appointed an ambassador to China for several years.
The last time the leaders of Ukraine and China spoke was in 2021.
In February 2023, the Chinese Foreign Ministry published a so-called "peace plan" with its ideas for resolving Russia's war against Ukraine. The document consists of 12 points.
Zelenskyy does not consider China's proposals for resolving the war in Ukraine a peace plan, but he does see positive things in the initiative.
Journalists fight on their own frontline. Support Ukrainska Pravda or become our patron!