First Deputy Chairman of Crimean Mejlis is sent to Siberia
Saturday, 28 October 2023, 01:12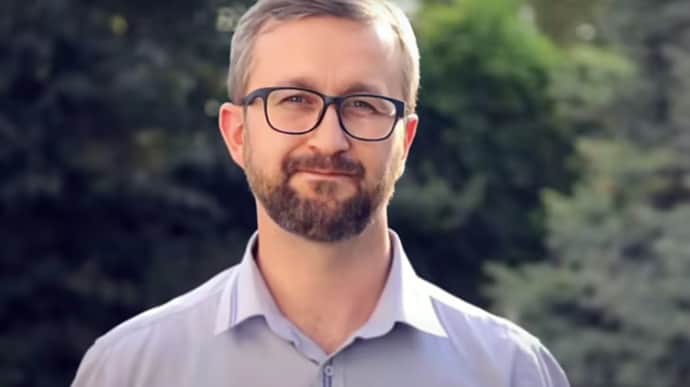 Nariman Dzhelial, one of the leaders of the Mejlis, the Crimean Tatar national movement, is being moved to Minusinsk in Eastern Siberia.
Source: Osman Pashaiev, Ukrainian and Crimean Tatar TV journalist, on Crimean media platform UA.SOUTH
Details: UA.SOUTH noted that cousins Asan and Aziz Akhtemov had also been transported from Crimea.
Advertisement:
These three Crimeans were sentenced by the occupiers last year on falsified terrorism charges – Dzhelial to 17 years, Asan Akhtemov to 15 years, and Aziz Akhtemov to 13 years in prison.
Quote from the article: "In fact, the Russian authorities took revenge on Nariman Dzhelial, First Deputy Chairman of the Mejlis, and Crimean Tatar activists the Akhtemov brothers for destroying the image of the peaceful 'return of Crimea to its home'."
Details: On the eve of his arrest, Dzhelial participated in the founding summit of the Crimean Platform in Kyiv on 23 August 2021. He remained one of the few politicians who did not pay attention to the strengthening of the Kremlin's repressive machine and publicly spoke in the Ukrainian media, calling the occupier an occupier. He and the Akhtemov brothers were abducted from their home by the occupiers on the night of 3-4 September 2021.
There has been no contact with Dzhelial for several weeks. Lawyer Mykola Polozov said that transport is the most difficult part of a prisoner's life. Anything can happen during the transport of convicts.
Quote from Pashaiev: "The fact that there is no information from Dzhelial should alarm the public and make everyone closely monitor the actions of the Russian penal system."
More details: One of the Akhtemov brothers, Aziz, will also serve his sentence in Minusinsk. He recently got in touch with his father and said that he was currently in Chelyabinsk.
Aziz Akhtemov's relatives told UA.SOUTH that the transfer would last at least a month. On the way to Siberia, Aziz and Nariman were held behind bars for several days in Krasnodar, Saratov and other Russian cities.
Asan Akhtemov is being transferred to Vladimir, specifically to the notorious Vladimir Central Prison. There is no communication with him.
Nariman's wife, Leviza Dzhelial, said that the last time she saw her husband was in August. Back then, she and her relatives were allowed to talk to Nariman for four hours.
Long-term visits are not allowed for those serving their time in high-security facilities. They are granted after the transfer and only once a year.
14-year-old Adilie, 12-year-old Emine, 6-year-old Dzhemil and 3-year-old Nial did not see their father before the occupiers took him out of Crimea, because children are only allowed to see their imprisoned parents during long-term visits. But taking the children for more than 5,000 kilometres to Minusinsk would be impossible.
Lawyer Nikolai Polozov called the transfer to Siberia a form of climate pressure on political prisoners, which is a tradition of the Soviet Gulag.
He added that the regime's goal is to break the dissident so that he or she would be safe for the regime even when released.
Cutting off a prisoner from communication with relatives, children and defenders is also a method of psychological pressure used by the KGB.
Polozov cited the example of 60-year-old dissident Aleksei Gorinov, who was convicted of discrediting the Russian army last year. From time to time, he is deliberately placed in a cold cell so that he catches a cold and is constantly ill. The climate is suitable for such torture for almost an entire year where Nariman and Aziz Akhtemov are being taken. However, it is almost impossible to prove that this is torture per se.
Another problem of prisons that are far away is the difficulty of lawyers' control over detention conditions. It takes almost a week to travel from Crimea to Minusinsk and back, and it is expensive. Therefore, it is necessary to look for local lawyers who will visit prisoners and receive at least minimal information so as not to leave them alone with the jailers.
Polozov said that under the conditions of total Russian pressure, it is useless to look for lawyers in Siberia who do not cooperate with the authorities. Hopefully, it will be possible to find a lawyer who will at least visit Nariman and the Akhtemov brothers, help them file complaints and provide information about them to their relatives.
Previously: The Crimean Platform's parliamentary summit in Prague ended a few days ago. More than 60 countries and international organisations united for the liberation of Crimea. The names of Nariman, Asan and Aziz have become a symbol of this international platform, which draws attention to the Ukrainian peninsula, which has been under occupation for 10 years.
Background:
A gas pipeline was damaged in the village of Perevalne between Simferopol and Yalta on 23 August 2021, on the Day of the Ukrainian Flag. A criminal case was opened in Russia under Part 1 of Article 281 of the Russian Criminal Code (sabotage), which means imprisonment for a term of 10 to 15 years.
Five Crimean Tatars were detained in Crimea on 3-4 September 2021: Nariman Dzhelial, Aziz Akhtemov, Asan Akhtemov, Shevket Useinov and Eldar Odamanov. Nariman Dzhelial (Dzhelialov is the Russian version of his surname) was kept handcuffed and with a bag over his head for the whole day.
Support UP or become our patron!