Region reports: Russian missiles strike Mykolaiv, troops occupy government buildings in Kherson Region
Sunday, 8 May 2022, 09:21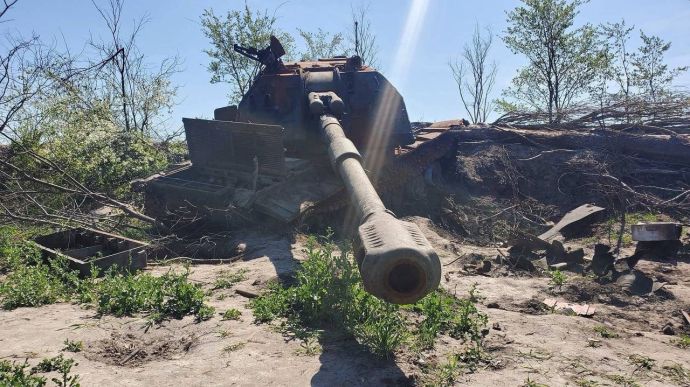 Olena Roshchina – Sunday, 8 May 2022, 09:21
Russian troops are deploying artillery and aircraft to attack the Donetsk and Luhansk Regions; Luhansk Region has also seen missile strikes. Mykolaiv Region and the city of Mykolaiv in particular have also been struck by Russian missiles.
Source: Information from Ukraine's Regions as of 08:00 on Sunday, 8 May
Advertisement:
Detail: Kharkiv Region: Several attacks on the outskirts of the city of Kharkiv; no casualties according to preliminary information.
A Russian shell hit a 2-storey house in the town of Barvinkove, Izium District in the Kharkiv Region, killing a woman, whose body was later retrieved from under the rubble.
Fighting on the Izium front continues.
Luhansk Region: Missile and air strikes on Sievierodonetsk, Lysychansk, Popasna, and neighbouring towns and villages.
At least 62 people were killed in an air strike on Bilohorivka.
2 teenage boys were killed in Pryvillia; their sisters and grandmother were severely injured.
Russian troops opened fire on Shypilove on the night of 7-8 May, destroying a 2-storey house and trapping 11 people under its rubble, according to preliminary information. So far no civilians have been reported dead.
Donetsk Region: Air strikes and artillery shelling of Avdiivka,Sviatohirsk, Siversk, Lyman, Druzhkivka, Kostiantynivka, Marinka, and Toretsk and Ocheretyn municipal territorial communities [hromadas] continued.
4 people were killed and 9 injured over the course of Saturday, 7 May.
1 civilian was injured in Siversk on the morning of 8 May.
A gas pipeline was damaged during the shelling of Toretsk municipal territorial community. The occupation forces continue targeting industrial facilities, such as the coke and phenol plant in Avdiivka.
The evacuation of civilians from Mariupol continues.
Kherson Region: The situation remains difficult as explosions and shelling continue all across the region. Circumstances in the municipal territorial communities neighbouring with Snihurivka, Mykolaiv, and Dnipropetrovsk Region, as well as in all villages of the former Velyka Oleksandrivka, Bilozerka, and Novovorontsovka Districts are critical, but stable.
Russian occupation forces continue to seize the buildings from which local governments operate: they have captured Darivka Village Council and Tokariv Village District government buildings. Government officials were banned from their workplaces. Beryslav City Council workers have also left the City Council building.
According to the Kherson Regional Military Administration, which was forced to leave the region: "During a visit by Pushylin and Turchak to the occupied area, the collaborators stated that Russia was there to stay and that they wanted the Kherson Region to become part of the Russian Federation. The occupiers are not supported by the region's residents."
Mykolaiv Region: Mykolaiv Region and its administrative capital, Mykolaiv, were shelled on the afternoon of 7 May.
Russian troops carried out a missile strike on an infrastructure facility in Voznesensk District of the Mykolayiv Region.
The town of Bereznehuvate was attacked by missiles during the day and in the evening of 7 May; no casualties, according to preliminary information.
Russian troops also shelled a residential neighbourhood of Mykolaiv, causing fires which were later extinguished by the relevant municipal services.
Another Russian missile attack caused a fire in the Halytsynivka forest; the fire was promptly extinguished.
During the night of 7-8 May, a neighbourhood on the outskirts of Mykolayiv was hit by Russian missiles.
5 people were wounded and 1 killed in Russian attacks on the Mykolayiv Region on 7 May. Information about casualties is being confirmed.
The night was relatively calm in Volyn, Zakarpattia, Rivne, Ivano-Frankivsk, Chernivtsi, Lviv, Zaporizhzhia, Vinnytsia, Odesa, Ternopil, Khmelnytskyi, Dnipropetrovsk Zhytomyr, Kirovohrad, Cherkasy, Poltava, Sumy, Kyiv, and Chernihiv Regions.

From Ukrainska Pravda: It was reported this night that explosions were heard in Odesa. A spokesman for the head of the Odesa Regional Military Administration, Serhiy Bratchuk, later said that units from "Pivden" (South) Air Command had detected and destroyed two X-type cruise missiles fired by a Russian fighter jet from the Black Sea towards the Odesa region during the night.