Explosions heard in occupied Crimea, Russian claim downing 11 UAVs
Thursday, 14 September 2023, 07:33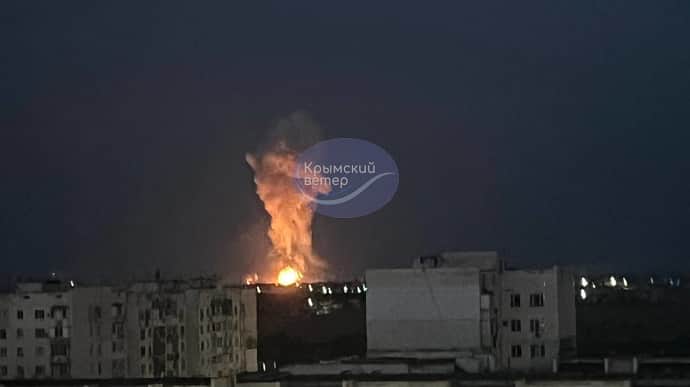 Explosions rang out in occupied Yevpatoriia, Crimea, on the morning of 14 September. The Russian Defence Ministry reported a drone attack on Crimea and an attempt to attack the Black Sea Fleet patrol ship Sergei Kotov by unmanned surface vessels (USV).
Source: Suspilne; Crimean Telegram channels; BBC Russian Service; Nataliia Humeniuk, Head of the Joint Press Centre for Operational Command Pivden (South), on air during the national joint 24/7 newscast; Kremlin-aligned news agency TASS; Russian Defence Ministry
Details: Suspilne noted that a local resident reported several powerful explosions.
Advertisement:
In addition, Suspilne published photos and videos from the scene.
Later, Suspilne added that the explosions in Crimea were heard near the village of Uiutne, west of Yevpatoriia.
"Ambulances and rescue workers are driving through the streets. As local residents told Suspilne Crimea, military unit No. 85683 is deployed in the area where the explosion was heard," Suspilne said.
The Crimean Telegram channel ChP Sevastopol [Emergencies Sevastopol] reported about four powerful explosions. But as of now, it is unclear if it is about the explosions that local residents have written about or whether they are new ones.
Nataliia Humeniuk, Head of the Joint Press Centre for Operational Command Pivden (South), reported that the Ukraine's Defence Forces are working to destroy Russian targets.
"The concentration of military facilities, the presence of an airfield nearby – all this indicates that [Ukrainian forces – ed.] conduct their work in an absolutely planned manner. The targets are legitimate, the targets are military and cotton is flourishing," Humeniuk emphasised. [Russian propaganda, initially refusing to use the word 'vzryv' (explosion), used 'khlopok' (a bang) instead. However, 'khlopok' also means 'cotton', and this has since become a meme – ed.]
The occupying authorities of Yevpatoriia and Crimea have not yet commented on the explosions.
However, TASS, referring to the Russian Defence Ministry, claimed that Russian air defence systems destroyed 11 drones over Crimea, as well as naval aviation of the Black Sea Fleet, which destroyed three more USVs of Ukraine's Armed Forces.
The Russian Defence Ministry reported at 07:22 that Ukraine's Armed Forces tried to attack the patrol ship of the Black Sea Fleet, Sergei Kotov, in the waters of the Black Sea with five USVs at around 05:00. The Russian Defence Ministry stated that five USVs were allegedly destroyed by fire from the ship's standard weapons. The Russian Defence Ministry claimed that five uncrewed boats were destroyed by fire from the vessel's regular weapons. They also reported that they had supposedly downed 11 UAVs that had attacked Crimea.
Previously: Russian occupiers once again reported that traffic on the Crimean Bridge was blocked.
Background:
Ukrainska Pravda is the place where you will find the most up-to-date information about everything related to the war in Ukraine. Follow us on Twitter, support us, or become our patron!