Death of Commander-in-Chief's aide: officer served with notice of suspicion
Thursday, 9 November 2023, 11:31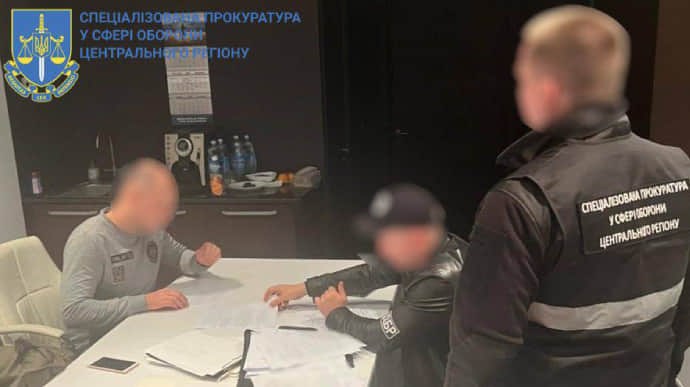 A senior aide of the Deputy Commander-in-Chief of the Armed Forces of Ukraine who gave hand grenades as a present to his colleague, the late Hennadii Chastiakov, has been served with a notice of suspicion by the State Bureau of Investigation.
Source: State Bureau of Investigation; Prosecutor General's Office of Ukraine; Ukrainska Pravda source in law enforcement agencies
Quote: "It has been established that the officer purchased eight universal DM 51A2 hand grenades without the appropriate permit and brought them to his office. Later, he packed six of them in a wooden gift box and put a bottle of strong alcohol in it.
Advertisement:
He gave this box to military serviceman Hennadii Chastiakov on his birthday. In doing so, the officer was distributing explosive devices.
He continued to keep two more grenades in a cupboard in his office, where law enforcement officers seized them."
Details: Ukrainska Pravda sources say the suspect's name is Oleh Timchenko.
The officer has been served with a notice of suspicion of acquiring, storing, carrying and distributing explosive devices without due permission (Article 263.1 of the Criminal Code of Ukraine).
The penalty stipulated under this article is up to seven years' imprisonment.
According to Ukrainska Pravda's sources, the prosecution will ask for a round-the-clock house arrest for the suspect.
Previously: The State Bureau of Investigation of Ukraine (SBI) is examining four lines of enquiry into the death of Hennadii Chestiakov, an aide to Valerii Zaluzhnyi, Commander-in-Chief of the Armed Forces of Ukraine. The priority theory is that it was an accident.

Background:
A 39-year-old serviceman was killed on the evening of Monday, 6 November, when a grenade exploded in his home in the village of Chaiky in Kyiv Oblast. His 13-year-old son was taken to hospital with serious injuries. The deceased, Hennadii Chastiakov, was an aide to Valerii Zaluzhnyi, Commander-in-Chief of the Armed Forces of Ukraine.
Zaluzhnyi confirmed the death of his aide Chastiakov under tragic circumstances and expressed his condolences to the family.
Hennadii Chastiakov's widow says that the grenade that exploded in her husband's hands was in a gift bag that he had brought home. On 6 November, Chastiakov celebrated his birthday.
A Ukrainska Pravda source in the General Staff noted that Chastiakov had graduated from the Military Academy in Odesa and knew exactly how to handle a grenade.
Ihor Klymenko, Ukraine's Minister of Internal Affairs, said that preliminary information from the investigation suggests Major Hennadii Chastiakov pulled the ring from a grenade he had been given, causing the tragic explosion.
The man who gave him the grenades told the investigation that he had warned Chastiakov that the grenades were real.
Support UP or become our patron!