Peace treaty with Russia could comprise two documents – Zelenskyy
Saturday, 16 April 2022, 17:22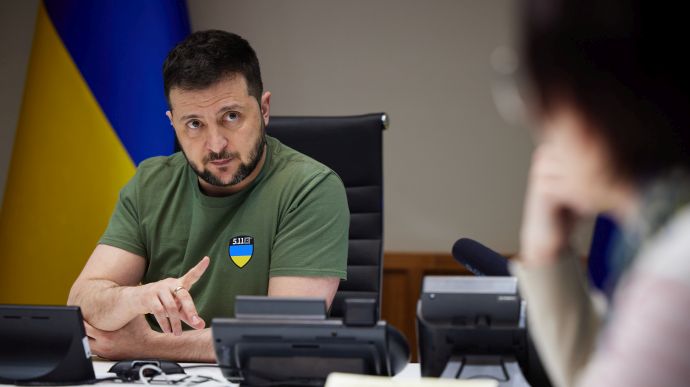 SEVGIL MUSAEVA, OLENA ROSHCHINA — Saturday, 16 April 2022, 17:22
The peace treaty with the Russian Federation could comprise two separate documents, President of Ukraine Volodymyr Zelenskyy believes.
Source: Volodymyr Zelenskyy in an interview with Ukrainian online media
Advertisement:
Direct quote: "The peace treaty with Russia could comprise two separate documents. One of them should deal with security guarantees for Ukraine, and the other directly with its relationship with the Russian Federation.
I think it could be two separate documents. Guarantees of security from those who are prepared to give such security guarantees. And a separate document with Russia.
Moscow would like to have one treaty that would resolve all the issues. However, not everyone sees themselves at the table with Russia. For them, security guarantees for Ukraine is one issue, and the agreement with the Russian Federation is another issue.
Russian wants everything to be in one document, but people are saying, sorry, we have seen what happened in Bucha, circumstances change."
Details: Zelenskyy announced that the UK, US, Italy and Turkey have demonstrated a willingness to become guarantors of Ukraine's security, but no one has yet given a definitive answer.
Earlier Zelenskyy confirmed that various countries are prepared to offer various guarantees and assistance to Ukraine, but also that solving all the issues with Russia in a single "package" of agreeements would not be possible.
Background:
Russia began a full-scale invasion of Ukraine on 24 February after 8 years of hybrid warfare. On 28 February peace talks began between Ukrainian and Russian delegations. On 29 March the Ukrainian delegation in Istanbul publicly announced its proposals to the Russian Federation on security guarantees, Crimea and Donbas. Russia has still not responded to them.
The head of the Russian delegation Vladimir Medinsky claimed that in Istanbul, Ukraine had declared its readiness to fulfil the "fundamental demands" of the Russian Federation, but he did not say anything about the withdrawal of troops and made it clear that the Kremlin would not compromise on Crimea and Donbas.
A new agreement on security guarantees should become an alternative to Ukraine joining NATO, which Russia opposes.
CNN, referencing multiple sources, reported that the US and its allies are unlikely to provide Ukraine with the security guarantees it wants, but are considering what they could offer Ukraine in the event that it turns away from its path of integration into the North Atlantic alliance.
Germany and Turkey have expressed their readiness to offer Ukraine security guarantees. Britain would consider the possibility of becoming a security guarantor for Ukraine, but has ruled out taking on the obligations that NATO members have within the framework of the Alliance.