Zelenskyy confirms that Azovstal fighters must be returned to Ukraine
Saturday, 21 May 2022, 11:11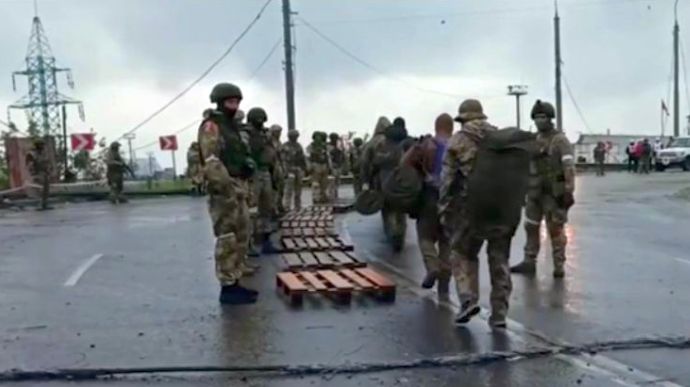 OLENA ROSCHINA - SATURDAY, 21 MAY 2022, 11:11

FIGHTERS LEAVING AZOVSTAL: SCREENSHOT FROM RIA NOVOSTI VIDEO
President Volodymyr Zelenskyy has stated that the defenders of Mariupol who were removed from the blockaded Azovstal steelworks must be released in exchange.
Source: Volodymyr Zelenskyy in an interview with Ukrainian journalists
Advertisement:
Quote: "The guys from the military received a signal that they were fully entitled to leave and stay alive. The military command passed all this on to everyone who was blockaded at Azovstal...
From now on it all depends on what the UN, the Red Cross and the Russian Federation have taken on, that they (the fighters) will all be safe and will expect some kind of exchange.
This is what I think right now: the process led by intelligence today is over - the removal, withdrawal (of the defenders), and the preparations for dialogue, exchange, etc.

We will take them home. That's what we must do, together with our partners who have taken on this responsibility."
Details: Zelenskyy noted that he had asked the leaders of other states "dozens or hundreds of times" to provide weapons to unblock Mariupol and its defenders. But in the end, we had to rely on diplomacy, because it was impossible to break the blockade militarily.
The President stressed that Western partners had agreed to break the blockade. He had personally asked the leaders of Turkey, Switzerland, Israel and France to use their influence on Russian President Vladimir Putin.
At the time of Zelenskyy's conversation with the journalists, the departure of the Ukrainian defenders from Azovstal was still ongoing, but on 20 May, the Russian Ministry of Defence announced that all the fighters had been evacuated and that there were 2,439 people, whom Russia considers prisoners of war.
Denys Prokopenko, commander of the Azov National Guard regiment in Ukraine, said the seriously wounded Azovstal soldiers were to be brought to Ukraine-controlled territory in exchange, and with respect to the dead defenders, he said he hoped their relatives would be able to bury them soon.
Read also: Azov Commander Denys Prokopenko (Redis): We did everything possible and impossible to attract the overwhelming forces of the aggressor towards us
Background: